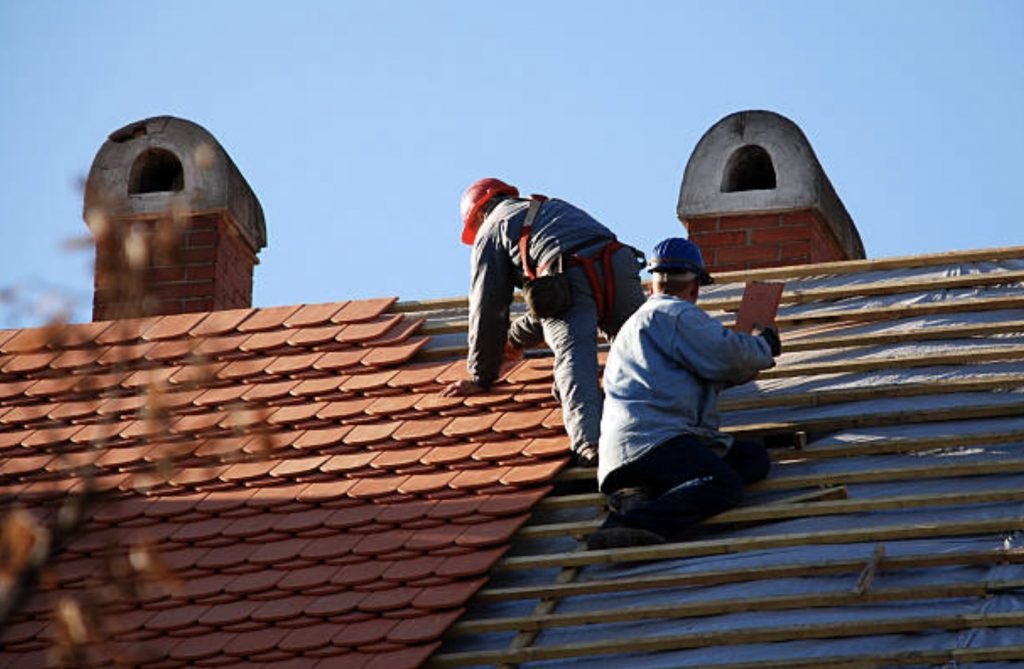 Omaha Roofing Company is Your Omaha Roofing Solution If your home or building has roof damage and you need roof repairs or complete roof replacement, we can help. This includes metal roofing, shingle roofs, tile roofs, flat roofs and more. Omaha Roofing Company is your go-to roofing contractor in Omaha Nebraska. 5-Star Residential & Commercial Roofing Contractors! Call us for Roof Replacements & Repairs for All Roofing Types | Insured, Bondable, Licensed & Certified.
Omaha Roofing Company provides a variety of roofing options, varying from composition shingles to world class single ply modified roofing systems. Our leadership leads with integrity and live our daily culture by working non stop to make our customers and employees happy. We thank you for visiting our company website and our team looks forward to serving your roofing needs.
Whether residential or commercial, the smallest leak or a complete roof replacement, the Omaha Roofing Company team delivers the same professionalism, dedication and satisfaction to every single customer.
We partner with the best suppliers, and provide the best materials from leading manufacturers Omaha Roofing Company is a local contractor.
Residential Roofing Omaha
The well-constructed roof structure is a guarantee of its stability, safety, functionality and, finally, aesthetics. Omaha Roofing Company has many years of experience in the construction of roof structures made of wood and metal, skilled and trained workers and responsible approach…
Plus, we give a guarantee on all our works! So if you are looking for residential roofing Omaha, contact us today! We are here for any advice, a recommendation or anything else related to the roofing contractors in Omaha!
If you are looking for residential roofing Omaha, contact us today for any advice!
We are the best Omaha residential roofing contractors
Omaha Roofing Company promises only the best residential roofing Omaha services. And we are aware that often there is a need to remodel, refurbish, remodel or make certain upgrades to the existing roof… It may be something like raising the height of the roof, break openings, do badges or anything else to increase the usable floor space of the attic and generally increase comfort or improve housing conditions. And we are here to help you!
So if you are in need of residential roofing Omaha, know that Omaha Roofing Company uses only the best roofing materials to make – or to repair your roof! In our many years of experience working with various types of roofing, Omaha Roofing Company continues to offer expertise, seriousness, and quality!
We specialize in residential roofing in Omaha, NE
Omaha Roofing Company is your resource for top-notch residential roofing throughout the Omaha, NE and the Nebraska area. From re-roofing to repairs and roof replacement Omaha, our team brings many years of experience to roofing projects of all kinds. Whether you need shingles, tile or another material, you can rest assured we use the best materials backed by the highest level of training to deliver on promises of craftsmanship and quality.
Here at Omaha Roofing Company, we specialize in all residential roofing products and services, from inspection and repair to installation and maintenance. As your leading roofing contractors in Omaha, NE, we are devoted to helping you make the right decisions when it comes to home improvement. There are many signs your roof may need replacing, such as leaks, curling, and missing shingles, age, energy inefficiency and more. If you're unsure about the state of your roof, we offer roof inspection services in the LINCOLN, NE area. Because your roof is your home's last line of defense from the elements, it's important for it to be in top working condition. The team at Omaha Roofing Company can ensure you get the most durable and long-lasting roof that lasts for decades to come.
Only skilled workers are a part of our residential roofing Omaha team
Roofing construction and contracting are not easy. But Omaha Roofing Company has the team and the knowledge to do it right. When the roof structure is done, it is necessary to install sheet metal roof elements before any cover is installed. Horizontal and vertical gutters, wind-strips, wall sheets, transition sheets, and other non-standard sheet metal elements made of galvanized, painted or copper sheet metal – are included in our offer. So whatever you look for in roofing services Omaha, we can do it for you.
Using quality materials and employing only skilled personnel, we make our company better. In this way, we also offer our clients a complete service of residential roofing construction in Omaha. So anything you imagine, we can make it. From its wooden construction, through sheet metal works to the final covering with either tug, tile or sheet metal. Of course, we hire only skilled, conscientious and responsible workers, who will do everything to make your ideal roof a reality.
Choosing a reputable residential roofer in Omaha, NE is key. Rest assured, we stand behind our work and our products with industry-leading warranties on roofing materials that increase your curb appeal, property value, and energy efficiency.
Regardless of whether you need a roof over your head in the place where you live or you may need help from Omaha roofing services to put a roof over your business' head, it is important to have the right roofing partner taking care of your roof. Omaha Roofing Company is the company to talk to when you need help with commercial roofing Omaha. 
Therefore, make sure to remain with us till the end and find out how Omaha Roofing Company as the top commercial roofing Omaha provider can be of service to you.
Regular maintenance will ensure long-lasting roofing on your building
We specialize in Commercial Roofing in the Omaha, NE area
As your dependable local resource for commercial roofing in the Omaha areas, Omaha Roofing Company does it all, from re-roofing to repairs to replacement. We work with all kinds of roofing materials for commercial customers, such as metal, built-up roofing, and single-ply. We know you can't afford too much downtime because every moment you're not being productive means you're losing money. Our team brings specialized commercial roofing knowledge to every job we take on, so you can rest assured we're there to do a quick, efficient, yet thorough job.
Roof cleaning Omaha
Late fall is the right time to clean your roof. Once all of the leaves have fallen off the trees, you should make sure to check the drainage and the state of your roof. Here in Omaha, many companies find themselves in a very bad situation once the winter comes. Plenty of them only because they had failed to clean their roofs.
Do not be one of the statistics. Get in touch with us today. Schedule your roof cleaning and rest assured that your employees are going to have to focus only on work once the rains start.
Leaking repairs Omaha
Regardless of the time of the year, roofs may start leaking. The reasons can vary. Still, you should not despair.
Maintaining a roof is important for any office building to do at least once every two years.
With Omaha Roofing Company, you are going to receive the best leaking repairs available on the market. After all, the fact is that we like not having to visit our customers again soon. To make sure that this is the case, we conduct the work up to the highest standards. Our Yelp reviews can testify to our quality.
So, form part of the satisfied community. Contact Omaha Roofing Company today. We'll take care of the rest.
Roof replacements Omaha
The last service that we are going to tell you about today is roof replacement.
The fact is, any roof is going to need replacing. The only question is when. With Omaha Roofing Company, you are not going to be replacing your roof any time soon again. After all, we guarantee that you will be provided with skilled craftwork that is going to be standing much longer than anyone would expect it to.
Are you looking for a fast and reliable gutter cleaning Omaha? We do gutter cleaning for all houses and buildings – no matter how high they are! If gutters become congested, water cannot drain properly, which can lead to many problems. Most often, gutters choke from leaves and other dirt during the transitional periods. That's why Omaha Roofing Company is here for you, 24/7 – so give us a call anytime! We will give you a reasonable quote, and we're here to help you with any kind of gutter services!
Having a roof over your head is the symbol of safety and security. This is by no means a coincidence. Apart from protecting you, a quality roof will also prolong the longevity of your residence. However, a quality roof has certain features which, when damaged, tend to cause more problems than it may seem at first. Old gutters can harm your property with issues like foundation cracks and wood root. With that in mind, you want to be quick when finding people who can help solve this problem. Instead of wasting your time on internet research, looking for 'gutter repair near me', rather contact Omaha Roofing Company, and receive the reliable, professional and swift service.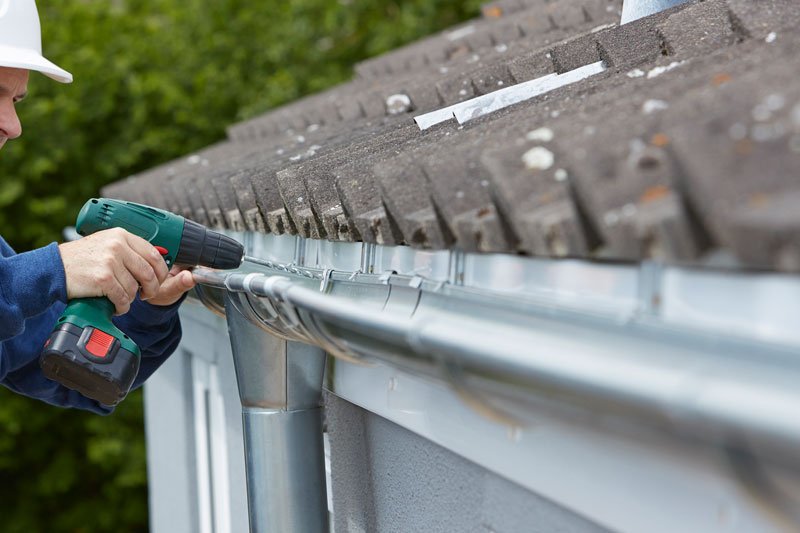 Installing new gutters
Quality gutters are the bread and butter of a quality roof. That is why it is paramount that you receive only the best materials and workmanship when having your gutters installed. This is where Omaha Roofing Company steps into the picture as the reputable provider of both for the whole LINCOLN, NE. Reach out to us for a gutter installation that will keep your roof and home safe.
Cleaning your gutters
Dirty gutters are often a gateway to gutter damage. With this in mind, you want to ensure your gutter system is neat and clean. Avoid the hassle of handling this job yourself, and let our trustworthy roofers take care of the gutter cleaning Omaha for you. Not only will they spare you the time and the trouble, but also ensure all is perfect order.
Do not trouble yourself with cleaning the gutters when we can do it for you.
Replacing your old gutters
It can sometimes happen that the damage is so great, the only option left for your gutters is a complete replacement. Do not let this discourage you, and give Omaha Roofing Company a call. We will provide you with the highest quality gutter installation and materials for your gutter system.
BEST ROOFING CONTRACTOR IN OMAHA, NE
LINCOLN ROOFING COMPANY
REQUEST MORE INFORMATION NOW. CONTACT US!