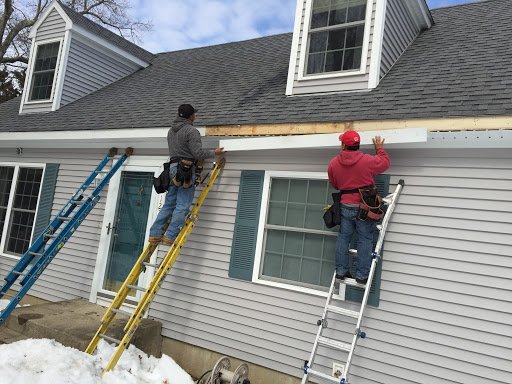 Gutter Repair Service near Omaha NE: Are you looking for the Best Gutter Repair Service near Omaha NE ? Omaha Roofing Company, we specialize in exterior property care, maintenance and upgrades. Our services range from siding installation to roof maintenance and replacement, and includes a full service for guttering repair, replacement and installation. Cost? Free estimates! Send us a message or call us today. Best Gutter Repair Service around Omaha NE. We serve Omaha NE and other areas.
GUTTER REPAIR SERVICE IN OMAHA NE
Professional Gutter Repair & Installation Services 
Gutter Repair Service near Omaha NE: To achieve comprehensive exterior property protection, for homes and commercial properties, every building system needs to be operating perfectly. Of the range of exterior components designed to keep your property safe from damage, particularly from the rain, the guttering system is one of the most important.
A well-designed guttering system, constructed from high-quality materials, will act as one of your property's first lines of defense against water damage; keeping the interior and exterior of your home or workplace safe from the serious harm that rainwater can cause. If your guttering system isn't doing its job properly, or you want a new guttering system that's more capable of protecting your property in the long term, then it's essential to act quickly.
At Omaha Roofing Company, we specialize in exterior property care, maintenance and upgrades. Our services range from siding installation to roof maintenance and replacement, and includes a full service for guttering repair, replacement and installation. If you're concerned about the quality of your guttering, the design of the system, or existing damage to the gutter materials, then we're always on hand to help you find the best and most affordable solution in the Omaha NE area.  
Omaha NE Gutter Repair Service Gutter Installs The Vital Role of the Gutters
Gutter Repair Service near Omaha NE: Gutter systems may seem like a small component in the great scheme of exterior property protection, but without a capable guttering system, your property could be exposed to some serious moisture-related issues. If you don't have reliable gutters, the structural integrity of your property is put at risk, and both the exterior and interior of the building could be damaged.
The primary role of a guttering system is to carry rainwater away from your home or commercial building removing the threat of rainwater from the immediate area around your property. A well-designed guttering system will be positioned to collect the water runoff from the roof of the property. Once the rainwater is safely in the guttering system, it'll be directed towards the downspouts, which will carry the water to the drainage system to be properly disposed of.
This simple process can mean all the difference between a property that's dry and safe from water damage, and a property that's subjected to the full threat of excess water. The team at Omaha Roofing Company are highly knowledgeable in all areas of guttering system design and installation, so if you've noticed problems with your guttering system that's preventing it from carrying out its primary role in your property's protection, please don't hesitate to contact us today.
What Can Go Wrong with Gutters
Gutter Repair Service near Omaha NE: Just like any exterior system, gutters need regular maintenance to stay effective, and require repair and occasional replacement to ensure that your property remains safe from water damage. Over time, there are many things that can go wrong with guttering systems that may require professional intervention to prevent more serious issues from occurring, these include:
The gutters or downspouts become clogged with leaves or other debris that prevent water being drained properly.
Downspouts not being properly aligned to allow for adequate drainage away from the immediate property area.
Ice causes the gutters to become backed up and prevents drainage.
Sagging of the gutters that cause the guttering to slowly begin pulling away from the structure of the property.
Poor pitching of gutters that prevents the water draining adequately into the downspouts.
Holes appear in the guttering that cause leaks.
Leaks in the joints cause damp in the interior of a property.
Inadequate design of the guttering which can lead to poor drainage or standing water in some areas.
No matter the problem that you're facing with your guttering system in Omaha NE, Omaha Roofing Company can help you to find a fast solution that will secure your home or commercial building now and for many years to come.
Avoid Gutter Problems in Omaha NE land with Omaha Roofing Company
Gutter Repair Service near Omaha NE: The problems that can occur with guttering systems can lead to a range of moisture-related issues that can cause damage to your home or commercial property. Depending on the exact problem with your gutters, the water damage could be minor or severe, but as always with issues relating to excess water, the problems need to be addressed quickly. Here are some problems that can be the result of a poorly-designed, damaged, or inadequate guttering system:
A clog in the system may cause the rainwater to overflow and saturate the foundations of your building. This can cause serious problems with the structural integrity of your property.
Leaks in the guttering system can lead to isolated damp, where the excess water penetrates the exterior walls of your property and causes damp patches to appear on the interior. This could eventually lead to mold appearing on the surface of the walls.
Poor downspout design, which doesn't direct rainwater to the drainage system, can cause exterior surfaces, like driveways and paths, to be seriously damaged.
Without gutters, or gutters in good condition, siding can easily become damaged or stained. Depending on the type of siding installed, it may also begin to rot.
Soil erosion may be the result of water gathering around the immediate area of a property, instead of being carried away. The erosion of soil on your property can lead to further foundation problems.
Blocked downspouts can lead to overflowing, which can cause major flooding in properties with basements.
How Omaha Roofing Company in Omaha NE Can Help
Gutter Repair Service near Omaha NE: Guttering does more than just dispose of rainwater, it protects the very structure of your property, and lowers the risk of mold, damp, and rot around your home. If you've noticed any of these problems occurring, then it's vital that you contact the professional gutter repair and replacement team at Omaha Roofing Company. We will assess the damage, and either repair any damage to your existing guttering system or design a replacement system that will be able to handle rainwater on your property.
Don't have an existing guttering system, and worried that the lack of a system may be causing problems around your home or commercial property? Not to worry! We can also take care of brand-new gutter installation, giving you a peace of mind over how well your property is designed to fight back against water problems.
To combat the vast differences between guttering problems and the consequences of gutter issues, and to provide solutions for every home, we offer a comprehensive range of guttering services. At Omaha Roofing Company, we always strive to find the solution that's best for your unique property, in terms of function and aesthetics your guttering system doesn't have to detract from the exterior look of your home, it can actually enhance it!
We offer a range of solutions to repair faulty or damaged guttering, upgrade existing guttering systems with innovative products, and install entirely new systems that have been designed to work with the layout of your property Omaha Roofing Company is the one stop shop for all your guttering needs.
Ready to put an end to your property's guttering problems, or safeguard your property for the future? Here are some of the main guttering services that we offer to the residents of Omaha NE:
Holes
Whether your gutters have started to corrode, or leaves and other debris have caused holes to appear in your guttering system, the experts at Omaha Roofing Company can take care of the problem. We'll inspect your guttering and suggest a solution to fix any holes and enable your guttering to once more function as it was designed to. We also have additional options for leaf protection systems, that are designed to keep your gutters free from obstruction and help them to last longer.
Leaks
A leaking gutter is a sign that all is not right with your guttering system. The team at Omaha Roofing Company will make sure that any leaks in the joints of the guttering system, or leaks due to holes, are properly fixed to prevent any ongoing problems that the water leak may cause. Within excess of 30 years of experience working with an extensive range of rain-ware systems, you can count on our team to find the best ongoing solutions for your guttering.
Pitch Problems
A simple problem with the pitch of your gutters, that prevents water draining into the downspout, can cause a long list of serious problems, but with a little help from our Omaha NE team, they can be completely avoided. We can handle guttering pitch problems big and small, so that you always know that your gutters are draining water away safely and effectively.
Gutter System Installation
If your property has a very old guttering system that's beyond repair, or is lacking any guttering system, then Omaha Roofing Company is the best service in the Omaha NE area to call. Our extensive knowledge of roofing and exterior property maintenance and improvement make us the perfect service to install a brand-new guttering system that will be an asset to your home or workplace.
We offer a beautiful selection of gutter types to create an aesthetic that's practical but also elegant and perfectly matched to the exterior of your property. A professional finish to enhance the look of your home and an exceptional performance that's designed to last is a guarantee when you choose Omaha Roofing Company to install your new gutters.
Downspout Re-Connection
Our vast experience in rain-ware systems means that we can resolve any issue, big or small. If your downspout has started to leak or has become fully disconnected, then one call to our team will make sure that the problem is resolved before any major damage occurs. We can reconnect all types of downspout and take care of any problems with the downspout at the same time, so you can rest assured knowing that the same problem won't happen again any time soon.
Downspout Installation
Gutter Repair Service near Omaha NE: Your rainwater drainage system is critical, you need to be sure they are installed the right way the first time. The truth is, installing rain gutters is not as simple as it seems. You can tell a poor installation from a professional one just by looking. There has to be a lot of designing and thought behind a good installation. For example, where does the water need to run off? Is a certain area in the home a good place to have a downspout in?
Working with Omaha Roofing Company means hiring professionals with years of experience, detailed knowledge of all types of gutter systems, and the know-how to resolve any issue. With our harsh winter weather, eave details and ice protection are critical components to properly functioning gutters. We take all necessary steps covering every detail to insure proper drainage away from foundations, landscaping, and walkways.
Beautiful gutters enhance the appearance of your home, making it look well cared for and classy. Our highly skilled installation technicians can deliver and install a gutter system that is both practical and aesthetically pleasing. At Omaha Roofing Company we offer all types of seamless residential and commercial gutter systems in many sizes and material types. We use only the highest quality products available today. Ask your estimator which system is right for you.
Installing a new downspout is a process that requires more than just attaching the downspout; a lot of consideration needs to go into how the downspout will impact property drainage. At Omaha Roofing Company, we'll make sure that the installation is nothing less than perfect to protect your property and its foundations, as well as making sure that your guttering is protected against extreme weather. By working with the uniqueness of your property, we're able to tailor the installation to account for all the architectural detailing on your building.
Loose/Separated Gutters
Gutter Repair Service near Omaha NE: If your guttering has started to become loose or has sagged and separated from your property, then we have the solution. Our new guttering systems are designed to solve the problem and give your home or commercial building a complete facelift restoring the function and aesthetics of your property. By stocking gutter systems in a number of sizes and in a great range of different material types, we have the solution on hand to stop loose gutters leading to serious moisture problems.
Rain Barrel Installation
If you're worried about your water consumption and want a more environmentally friendly management system for the water drainage on your property, then you can talk to one of our knowledgeable team about our rain barrel installation service. Installed directly on existing or new guttering systems, a rain barrel will give you a source of free water, saving you money on water use and reducing your overall water consumption!
Installing guttering is not always straightforward, just a small mistake can cause no end of problems. That's why it's always best to call in a professional to take care of the installation or repairs and upgrade your system to one that can protect your home. No matter your exact guttering requirements, or the problem that has occurred, you can count on Omaha Roofing Company to provide the best solution with an unrivaled service.
Leaf Protection Systems
We also offer a variety of leaf protection systems. With the combined experience of our staff, our quality is unmatched. Over the years we have recruited some of the industry's top installers with more than years' experience with various types of rain-ware systems.
Eco-friendly Gutter Systems – Rain Barrels
At Omaha Roofing Company we provide our customers with earth friendly gutter system options and solutions. At Omaha Roofing Company, we're committed to the environment and now offer rain barrels to help consumer water consumption. We can install them directly to your current gutter system. Ask about the many design options available that will work well with your home!
Contact Omaha Roofing Company Today for Gutter Repair or Replacement Services in Omaha NE
Gutter Repair Service near Omaha NE: Gutter problems can be the result of wear and tear over the years or the result of sudden damage, but there's always a solution to restoring or replacing your guttering that doesn't have to cost the earth. Despite our use of high-quality materials and guarantee of an exceptional service backed by installers with decades of experience, at Omaha Roofing Company, we always make sure that our prices for guttering repair and installation are affordable.
Guttering issues shouldn't go unresolved, and your property shouldn't have to wait any longer than what's strictly necessarily before having a high-quality gutter system installed. If you would like to learn more about our services in Omaha NE for gutter repair or replacement, our solutions for gutter installation, or our eco-friendly options for reducing water consumption, then please don't delay in contacting the team at Omaha Roofing Company today.
Expert Gutter Solutions at Prices You'll Love
Gutter Repair Service near Omaha NE: Gutter systems are one of the most important exterior components of any home or commercial building–they do more than just move rainwater away. Clean gutters are essential to the long-term health of your home or business.
Gutters that don't work properly can cause significant damage to your home, such as the following:
Clogged downspouts cause drain tile overflow creating damp / flooded basements
Ice back up damages your roof shingles leading to interior leaks
5 DIY Gutter Repair Tips Anyone Can Do
Gutter Repair Service near Omaha NE: Gutters and downspouts are an essential part of the drainage system on any home, and they are necessary for efficient collection of rainwater. In the rainwater harvesting world, gutters and downspouts together are known as the conduit system, along with the diverter that takes the rain into your rain barrels, rain tanks, or cisterns.
Unclog the Gutters
If you are comfortable on a ladder and you don't mind getting your hands dirty, then unclogging your gutters isn't difficult at all. Unclogging your gutters can prevent issues later on, saving you a fair amount of money in repairs. Preventative measures are sometimes the best DIY options. All you need, once that ladder has been secured, is a garden hose and gloves. After pulling out dry debris, sluicing the gutters with the hose will help keep the rain water flowing smoothly and keep the weight off the structure. Another quick and simple option is to install gutter covers.
Realign a Gutter
Gutter Repair Service near Omaha NE: Let gutters rest on nails after removing support brackets.
If water is not draining toward your downspouts, and the guttering is otherwise clean and clog-free, then it is most likely due to incorrect alignment of the gutter. Done correctly, alignment is not usually visible but gutters are actually tilted slightly for proper drainage – not straight. Realigning is a fairly straightforward task, so here's how!
To support the section of guttering that needs to be realigned, drive long nails into the fascia board at the rear side of the gutter, at regular intervals.
Next, remove the gutter support brackets.
Tie off a length of string from one end of the fascia to the other, ensuring it falls toward the downspout. The fall should be a half inch for every ten feet of gutter.
Put the brackets back up, following the tilt of the string.
Remove Rust from Metal Gutters
Rust should be removed from your gutters as soon as it is discovered, before it leads to more damaging problems.
Smaller patches of rust can be removed using sandpaper, while larger areas can be cleared with a wire brush.
Rust-resisting primer should be applied to the newly cleared area.
Check for cracks while applying the primer, fill them with sealant and make sure everything is smooth. Lastly, apply bitumen or gloss paint. Once dry, apply a second coat.
Fix Leaks in PVC or UPVC Gutters
Leaks in plastic gutters are nearly always found at joints, where two sections are connected to one another. These joints are made watertight with rubber seals or gaskets. When these become worn or pried apart by dirt and debris, leaks become evident.
Separate the gutter section from the seal by squeezing the sides of the gutter.
Remove all dirt and debris from around the seal; check for wear. If the seal is worn it can be replaced very easily, remembering to press new seals as firmly as you can.Refit your newly repaired guttering and gaskets.
Fix a Loose Downspout
Gutter Repair Service near Omaha NE: If you have a loose downspout, it isn't the end of the world – or your guttering. First just check to see if there is a connecting bracket that has worked itself loose. If that is the case, simply replace the bracket slightly higher or lower than its original placement, using new pilot holes. Failing that, it could be a loose wall plug. Replacing these and re-affixing the screws or nails is a simple task and will take just a few moments. Wall plugs are not always used, however, in these cases 1/4″ or 6.5mm galvanized screws will do the trick.
How Much Does It Cost To Repair Gutters & Downspouts?
Typical Range:
$174 – $521
Gutter Repair Cost
Gutter Repair Service near Omaha NE: The national average cost of gutter repair is $347. The average price range falls between $174 and $521 and depends on variables such as house height, type of gutter, gutter length, and the type of repair. Professional contractors charge between $4 and $30 per linear foot for labor, which is the typical industry pricing model.
The average cost of a full replacement falls between $1,600 and $2,175 per job. Downspout repair costs an average of $5 to $11 per installation, with a typical home of 200 feet of gutters requiring six downspout installations. Removing and disposing faulty downspouts costs about $100 per job.
It's important to have functioning gutters attached to your home to ensure that you don't flood your yard, damage your foundation or roof, or have your gutters rip apart from your home. Any of these scenarios would end up being expensive to fix. The cost to repairs is much more reasonable in comparison.
Gutter Repairs Cost Calculator
National Average $347
Typical Range $174 – $521
Low End – High End $85 – $1,000
Box Gutter Repair
Gutter Repair Service near Omaha NE: Box gutter repair costs an average of $20 to $50 per linear foot. Those with a curved structure cost an average of $40 to $50 per linear foot for materials only, and installation costs can run an extra $70 to $100 per linear foot. Repair costs of this kind are a bit higher than mainstream options since they are built into the house's structure.
The same installation prices apply to box gutters with stainless steel or copper linings as opposed to a basic galvanized steel lining. In addition, your repair may require extra work depending on the condition of fascia boards supporting it. On average, the cost of fascia repair before reinstalling gutters falls between $6 and $20 per linear foot.
Aside from their structural differences, the same factors that decide the cost of standard gutters affect the overall cost of box gutter repair such as house height and materials.
Downspout Replacement Costs
Gutter Repair Service near Omaha NE: Replacing downspouts costs between $5 to $11 per installation, depending on the type of materials in use. Removing and disposing damaged downspouts costs an average of $100 per job.
If your home lacks any kind of downspout drainage system, a professional contractor should be able to design and implement one for an average price of $160 total.
Below is a table of downspout replacement costs per material type:
Downspout Replacement Costs
Type of Material Average Cost (per linear foot)
Vinyl $5-$8
Aluminum $5-$7
Galvanized Steel $10-$11
Gutter Repair Prices
Gutter Repair Service near Omaha NE: The average cost for a full gutter replacement is between $1,600 and $2,200. If you need to replace or fix more than two or three sections, it's best to replace all of your roof gutters. Although the cost is higher than a general repair, it guarantees that new issues won't pop up in different areas in the future. If only a few spots need attention, then the repair costs should remain pretty low at a national average of $333.
Overall, the cost to fix gutters will depend on how bad the damage is, the number of spots that need to be mended and their overall height. A reputable local gutter repair company should have no problem quickly fixing problems. Make sure to talk to at least three professionals to ensure that they have experience with these types of repair, especially if you decide to go with a handyman.
Gutter Repair Factors
Home Height
The height of your home affects the cost to repair your gutters. Single-story houses are the most affordable at an average cost of around $170 per job. Two-story homes average about $330 per job, and multi-storied homes ring up at $500 per job for gutter repair.
Galvanized Steel Gutter Repair by Home Height
No. of Stories Average Cost
One-Story $170
Two-Stories $330
Three or More Stories $500
About Gutter Repair
Most companies that offer gutter installation and cleaning also offer gutter repair services. Repair services include patching holes, sealing leaky corner joints, and reattaching gutters and downspouts that have pulled away from your home. Fix these problems as soon as they occur and you'll get a long life out of your gutters.
Ideally, you should have your gutters checked once a year during a routine cleaning. Most gutter services will inspect the gutters for free while they're already on the ladder, then recommend repairs.
It's possible to tackle gutter repair as a do-it-yourself task, but you can make problems worse if you don't know what you're doing. You can't just nail loose vinyl gutters in place, for example – you risk cracking them and damaging them further. If you're unsure what to do, call in a professional.
FREQUENTLY ASKED QUESTIONS
How Often Should Gutters be Cleaned?
Clean your gutters three times a year to remove dirt and debris with each season. This means a heavy cleaning in the spring, a light cleaning in the summer, and a thorough cleaning in the fall. Altogether, it's an important maintenance project to execute that saves you money in the long run.
When Should You Clean Your Gutters in the Fall?
You should clean your gutters toward the end of the fall season to ready your home against the buildup brought on by the winter months. This ensures that dirt, leaves, and other debris won't accumulate and freeze, causing blockages in your draining system come springtime.
What Does Gutter Cleaning Include?
Gutter cleaning includes the following tasks:
Removing dirt and debris
Clearing out and inspecting gutter guards
Unclogging downspouts
Repairing fasteners and seals
All these tasks can be included in your estimate. In some cases, a pro may even perform minor repairs to fasteners, seals, and end caps for free.
How Long Does It Take to Clean Gutters?
After hiring a professional contractor to clean your gutters, the job should take no more than two hours to complete. However, extra time may be necessary to accommodate gutter guard removal, the risk associated with high or slanted rooftops, or the severity of the cleaning.
Do Gutters with Gutter Guards Need to be Cleaned?
Yes, gutters with gutter leaf guards should be cleaned. Although, you can have them serviced less often than gutters without guards. Rather than three cleanings a year, only one major cleaning and a light inspection is necessary. Even though a layer of protection is added, dirt and grime can still build up and prevent proper drainage, so performing a routine inspection and cleaning throughout the seasons is necessary.
Roof Gutter Repair Near Omaha NE
Gutter Repair Tape
Gutter Repair Services
Gutter Repair Parts
Gutter Repair
Gutter Repair Cost
Best Gutter Repair Near Omaha NE
Gutter
Gutter Replacement Cost Estimator
Box Gutter Repair Cost
Downspout Repair Cost
Gutter Cleaning Cost
Cost To Replace Gutters And Fascia
Best Gutter Repair Near Omaha NE
Arlington NE Gutter Repair Service Near Me
Ashland NE Gutter Repair Service Near Me
Avoca IA Gutter Repair Service Near Me
Avoca NE Gutter Repair Service Near Me
Bellevue NE Gutter Repair Service Near Me
Bennington NE Gutter Repair Service Near Me
Blair NE Gutter Repair Service Near Me
Boys Town NE Gutter Repair Service Near Me
Carson IA Gutter Repair Service Near Me
Carter Lake IA Gutter Repair Service Near Me
Ceresco NE Gutter Repair Service Near Me
Council Bluffs IA Gutter Repair Service Near Me
Dunlap IA Gutter Repair Service Near Me
Eagle NE Gutter Repair Service Near Me
Elkhorn NE Gutter Repair Service Near Me
Fort Calhoun NE Gutter Repair Service Near Me
Fremont NE Gutter Repair Service Near Me
Glenwood IA Gutter Repair Service Near Me
Greenwood NE Gutter Repair Service Near Me
Gretna NE Gutter Repair Service Near Me
LA Vista NE Gutter Repair Service Near Me
Omaha NE Gutter Repair Service Near Me
Logan IA Gutter Repair Service Near Me
Louisville NE Gutter Repair Service Near Me
Malvern IA Gutter Repair Service Near Me
Mead NE Gutter Repair Service Near Me
Missouri Valley Ia Gutter Repair Service Near Me
Murray NE Gutter Repair Service Near Me
Oakland IA Gutter Repair Service Near Me
Omaha NE Gutter Repair Service Near Me
Pacific Junction IA Gutter Repair Service Near Me
Papillion NE Gutter Repair Service Near Me
Plattsmouth NE Gutter Repair Service Near Me
Ralston NE Gutter Repair Service Near Me
Springfield NE Gutter Repair Service Near Me
Underwood IA Gutter Repair Service Near Me
Valley NE Gutter Repair Service Near Me
Wahoo NE Gutter Repair Service Near Me
Waterloo NE Gutter Repair Service Near Me
Weeping Water NE Gutter Repair Service Near Me
Woodbine IA Gutter Repair Service Near Me
Yutan NE Gutter Repair Service Near Me